Higher Ground Floors extensive experience in timber flooring, enables us to better assist our customers with expert advice whilst providing professional services that result in beautifully laid and finished floor.
Our timber flooring services include all aspects of supply, preparation, installation, sanding, polishing and or staining of solid planks, parquetry, second hand, recycled and FSC certified timber. With a thorough understanding of the different species of timbers available and their requirements when laid as flooring, we can advise and source to satisfy a whole range of considerations and requirements. For example some timbers hold more moisture than other species, and with constantly changing environmental conditions, knowledge of these subtle differences plays a critical role in providing quality flooring.
With increasing demands on the environment and a more environmentally conscious consumer, Higher Ground Floors are able assist in the sourcing and supply of timbers that meet specific environmental impact considerations. Where appropriate, we use the highly regarded FSC certified timber, which is recognised as an environmentally appropriate and socially beneficial resource, thus strengthening the economic viability and management of our forests and forestry industry throughout the world. Higher Ground Floors preferred supplier of FSC timber is The Woodage.
"Where appropriate, we use the highly regarded FSC certified timber, which is recognised as an environmentally appropriate and socially beneficial resource, thus strengthening the economic viability and management of our forests and forestry industry throughout the world."
Expert Advice
All timbers have their own unique features and impart different qualities. These subtle differences provide variety in look and finish. Our clients benefit from our intimate knowledge and first hand experience working with all major species of hardwoods and their respective requirements when laid as flooring.
Supply & Installation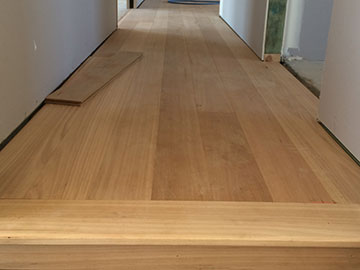 Drawing on two decades of supplying and installing hard floor coverings, Higher Ground Floors are able to supply all major species of Australian hardwood floorings including environmentally friendly FSC certified timber, sourced directly from a range of preferred timber mills and suppliers.
Understanding how these different species respond to environmental conditions enables us to help our clients with respect a whole range of considerations whilst ensuring appropriate planning and preparations is undertaken prior to the floor being laid.
We can install solid timber flooring in a number of ways to suit new or pre-existing floor requirements. Floor boards are designed to be laid directly onto the bearers and joists, or can be laid on top of a pre-existing sub floor or nailed directly onto an older timber floor. We can also install solid timber floors over concrete, incorporating a moisture proof membrane and structural grade particleboard sheets, such as Yellow Tongue, as a means to affix the new flooring to concrete.
Common Sizes
| Sizes | Secret Nail Profile | End Matched |
| --- | --- | --- |
| 86x10 T+G | | |
| 80x12 T+G | | |
| 130x14 T+G | | |
| 180x14 T+G | | |
| 80x19 | | |
| 130x19 | | |
| 180x19 | | |
| 210x19 | | |
| 230x19 | | |
Timber Floor Sanding
At Higher Ground Floors, we distinguish and differentiate our flooring sanding service as industry best. We sand both new and existing floors including floor boards and parquetry.
Sanding is a critical component in the delivery of a beautiful finish to any timber floor. To this end, we are constantly looking at improving our skills and knowledge through continued training, staying up to date with emerging products and equipment enhancements, and by listening to our customers feedback. One issue is dust that arises when sanding a timber floor. At Higher Ground Floors we have perfected the closest thing to true 'dust free' floor sanding. This is made possible by using vacuumed piped suction to a mobile dust extraction unit, instead of using the conventional cotton bags catching the dust. The extraction unit allows a vacuum to be attached to the sander, resulting in a minimal amount of dust that may escape. This is the best system any floor sander can offer.
Before sanding can commence, Higher Ground Floors undertake all necessary planning and preparation, including the removal of old floor coverings, punching all nails that protrude above the boards and removing any legacy staples, tacks, glues, resins and or adhesive membranes resulting from the removal of previous flooring. Protruding nails, staples and tacks can severely damage our sanding machines. Legacy resins and adhesives can adversely affect the quality of sanding process, clogging the sanding papers and running gear of the machines used.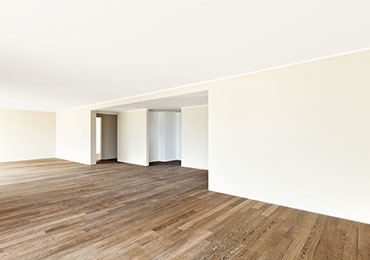 ---
Polishing & Staining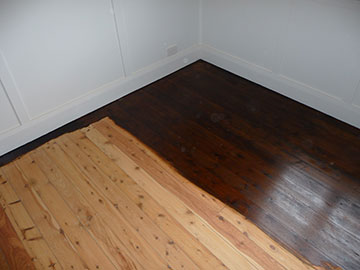 Our preferences is to use water based floor coatings. The main advantage of water based floor coatings is that they're low in volatile organic compounds (V.O.C), and therefore low in odour. Another major advantage is water based coatings are fast drying, allowing you and your family to transit through these areas during the job progression.
Unlike traditional solvent based coatings, water based coatings are non-yellowing, which means the grain of the timber floor shows through with clarity and wont darken with time. We use a number of coatings, in addition to the water based product for commercial and domestic floors, such as Tung Oil. Most coatings come in a satin, gloss or matt finishes, that you can choose or we can advise.
We also offer floor staining services, that enable our clients to render or change the colour of their timber floor. We use pigment and fade-resistant stains which are turpentine and spirit based respectively. Both are designed to penetrate into the pores of the timber rather than leaving a film on top of the timber. The main methods of floor staining are tinting, direct staining and liming. The porosity or ability of the timber to absorb the stain is another really important consideration when undertaking staining. Factors that influence a woods porosity include the type species, age of the wood, wood grain and cut considerations.
---
Timber Coating Products
We use a wide variety of premium timber coating products from a range of leading manufactures. Keeping up to date with new and improved coatings is an important part of our work.
We are continually reviewing the quality and performance of the products we use. Furthermore, by listening to our customers feedback with respects to newly coated floors, we are able to provide up to date, insightful and expert product advice. See below list of premium floor coating manufactures: